In 1954, underwater stuntman Ricou Browning terrified movie-goers with his underwater portrayal of the Gill-man in Creature from the Black Lagoon. This popular character went on to delight and scare audiences in two more films before quietly sinking beneath the waves forever. The creature's webbed hands were the most iconic feature of the costume, allowing the creature to propel himself rapidly, make sharp turns and look awesome.
Thirty seconds after receiving the Darkfin Gloves from the mail carrier, we were in the pool trying them on. Many of us had childhood icons we admired from the movies…the Gill-man was this reviewer's movie-poster hero. The black, latex gloves came packaged with an instruction sheet and return/exchange instructions, which included a warning announcement regarding the latex construction; some people can experience an allergic reaction to latex.
Important for users who are not used to donning latex-constructed garments, there are also instructions on how to put on the Darkfin Gloves both wet or dry. We used our open-celled wetsuit lubricant spray (1 part cheap hair conditioner to 3 parts water), but the Darkfin Gloves will slip on quite readily with just water or a little liquid dish-washing soap (we tried all three methods). Baby powder or talcum powder are recommended if putting them on in the dry.
Splash! In the pool, webbed hands extended…we could almost hear the screams of imaginary swimmers fleeing before our mighty talons…in short, we were immediately transported back to those Saturday Matinees watching the Creature surging across the silver screen.
[img src="https://www.deeperblue.com/wp-content/uploads/2016/08/Darkfin-Gloves.png" data-lazy-src="https://www.deeperblue.com/wp-content/uploads/2016/08/Darkfin-Gloves.png" alt="Darkfin Gloves" width="562" height="659" data-lazy-srcset="https://www.deeperblue.com/wp-content/uploads/2016/08/Darkfin-Gloves.png 562w, https://www.deeperblue.com/wp-content/uploads/2016/08/Darkfin-Gloves-273x320.png 273w, https://www.deeperblue.com/wp-content/uploads/2016/08/Darkfin-Gloves-358x420.png 358w" data-lazy-sizes="(max-width: 562px) 100vw, 562px" sizes="(max-width: 562px) 100vw, 562px" srcset="https://www.deeperblue.com/wp-content/uploads/2016/08/Darkfin-Gloves.png 562w, https://www.deeperblue.com/wp-content/uploads/2016/08/Darkfin-Gloves-273x320.png 273w, https://www.deeperblue.com/wp-content/uploads/2016/08/Darkfin-Gloves-358x420.png 358w" data-was-processed="true" style="box-sizing: border-box; text-align: center; clear: both; display: block; margin: 6px auto 21px;">
The Darkfin Gloves slipped on easily, and once in place, felt like pretty much any other dive glove. We had received the shorter-cuffed Darkfin Power Gloves, which was perfectly fine for evaluation purposes. The Darkfin Durafins have a second .9 mil latex layer from the wrist up, and an extended gauntlet design, designed to tuck under a wetsuit cuff. Both styles of glove come with a "Cotton Flock Finish", a layer of cotton fiber-infused latex, which adds a significant amount of texture to the glove.
So, after getting past the initial burst of excitement, we started our evaluation. We wanted to test for appearance, performance, dexterity, construction and value versus cost.
Our Experience of the Darkfin Power Gloves
Looks: The Darkfin Glove had already done well on appearance, with the anatomically-molded, hand-shaped glove, the slightly pebbly texture and sturdy-looking webbing between the extended digits…full Gill-man appearance. That's a win in the "Looks" category.
Performance: We decided to swim laps; first with a Pull-down breaststroke underwater. This would be with and without the Darkfin Gloves. So, we timed our best performance over 15 meters with and without the gloves. From a standing start and no push-off, we took 13 seconds to swim wall to wall without the gloves. With the Darkfin Gloves on, we did the same distance in 10.89 seconds.
We next tried a Front (or Freestyle) Crawl stroke. The Darkfin Gloves quickly showed their swimming advantage. These are much more sturdy than other webbed-finger, swim-training gloves we had worn in the past, and we were soon carving out laps with abandon. Fast times in swimming come from three components…amount of water moved by the stroke of the arms and cupped hand…the hydrodynamics of the swimmer's body (mass:resistance)…and positioning in the water. Our mass is a constant and our positioning is consistent, so the variable is in the amount of water moved rearward by the swimmer's stroke. The 2.5 second drop in time to complete a full lap (30 meters) can therefore be attributed to the Darkfin Gloves.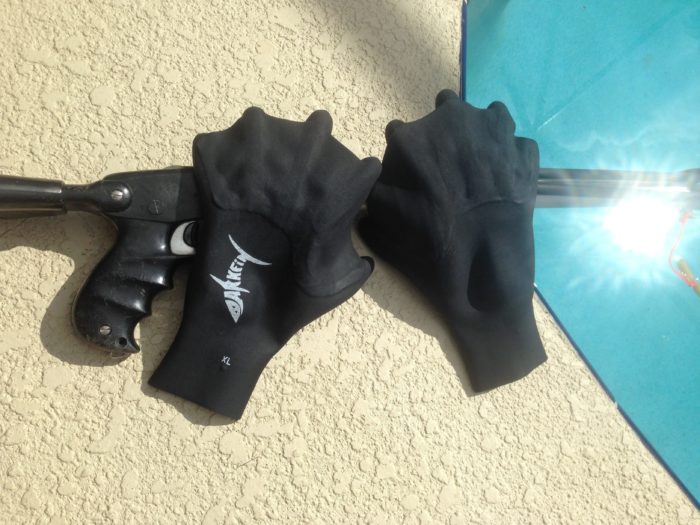 The Darkfin Gloves website suggests that some of the uses the Darkfin Gloves can be used for include: surfing, diving, swimming, or kayaking. Living only a few miles from the beach, we grabbed our boogie board and headed out to see how the gloves performed in the surf.
The 70% larger surface area gives the user much greater "paddle out" ability. The gloves are comfortable to wear and provide exposure protection from the sun, the sand, and stinging sea creatures. By using the Darkfin Gloves as fulcrums when carving the waves, we were able to easily pivot and turn quickly. The increased speed realized by the larger surface area propelled us across the surface quickly, with less effort than paddling out without gloves on.
Comfort: There are a couple of must-have features for any glove that is worn by a diver/spearo/snorkeler. Protection from the elements and from abrasion and sharp objects is one advantage to wearing the Darkfin Gloves. The anatomically designed and molded form give the Darkfin Gloves surprising comfort and dexterity. Thin enough to easily manipulate the buttons on a camera, or load a speargun, the sculling efficiency made maneuvering easier.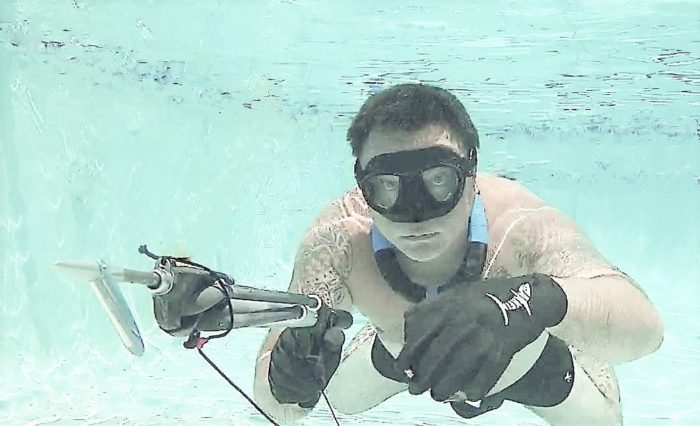 A spearo can use just one hand to quickly change directions, reverse themselves or hold in place in light current. Loading a speargun was not compromised by the glove and picking up small objects was a snap. While not insulated, the impermeable latex does trap water, which warms up and insulates the hand comfortably.
In addition to their comfortable feel, the Darkfin Gloves are robust and durable in construction. The material, while relatively thin, held up well to repeated use in the pool and in the ocean. Deliberately running our hands through the sand and along rocks left no visible damage other than some minor scuffing. The lack of sewn seams due to the Latex hot-dipping and "Nano Cellular Bonding" of the webbing to the back side of the gloves left no leak points and held up well. The fit was comfortable and with 12 sizes to select from, it is simple to ensure a near-skintight fit.
Value for Money: The Darkfin Power Glove (as reviewed) costs $24.99 USD on the website. The Darkfin Durafins cost $29.95 on the website. Compared to the Speedo Aqua Fit Training Gloves, made from sewn neoprene, which list for $22.99 on the Speedo website, the Darkfin Gloves are a bit more…but they are designed to be used in multiple applications, with much more durable construction and better dexterity.
In Summary
We found the Darkfin Gloves to be much more useful than a novelty reminder of childhood movies. These are sturdy, comfortable and useful additions to any diver, surfer or snorkeler's gear bag. By increasing the power of a swimmer's stroke, these gloves make a useful training aid for swimmers, without the drag that water-absorbent materials traditionally used would cause.
While the black material certainly heated up in the hot Florida sun, once in the water, they are comfortable. The dexterity afforded by the .9 mil thickness allows for easy use of a camera and for tasks requiring manual dexterity. For surfers, the increased speed and maneuverability for paddling out equals more time on the water and less time getting to the waves. Inner-tubers would benefit greatly from these gloves as well.
Putting on the gloves requires some practice, and is greatly aided by using a lubricant when wet, or powder when dry…but plain water does work just fine. Because the Darkfin Gloves do not absorb water, they dry quickly and are easy to keep clean.
The Darkfin Gloves are affordable, would make a great gift for the water sport enthusiast on your Christmas list and will hold up for many seasons of use. Black Lagoon Products, LLC also offers two styles of Darkfin Water Booties (a split-toed design and a thicker, traditional-style bootie well-suited to using with fins) as well as a number of other gloves designed for tactical use, archery and cross-fit training. All of their other products can be seen on their website.
We have no doubt that were a fourth Creature from the Black Lagoon movie be made, these gloves would be able to stand in just fine for the Gill-man…without the scary talons.
Features
3-D hand mold design for ultimate comfort
Lightweight latex won't absorb water and get heavy
Cotton flock surface provides excellent grip
Increase propulsion by up to 70%
Improve upper body strength